PRINTING YOUR PHOTOS ON CANVAS
QUALITY IS WHAT WE DO BEST
CANVAS PHOTO PRINTING IS OUR SPECIALTY
Canvas printing, often called giclee printing, is what we do most and what we do best. Simply send us your photo, painting, drawing, map, whatever you like and we'll make you a high quality, archival canvas print. Every print is individually adjusted for optimal printing quality, coated for extra protection, hand stretched on custom made stretcher bars, and fitted with a wire so it is ready to hang when you get it.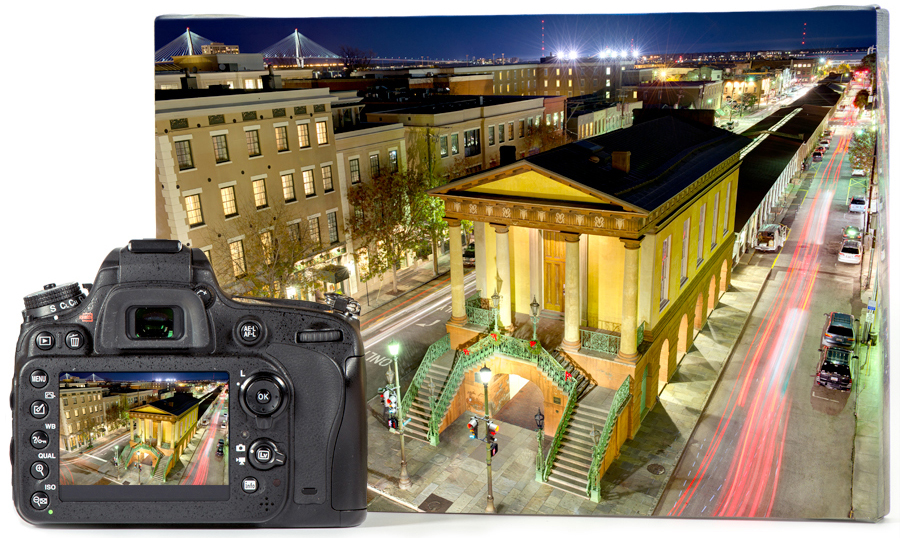 HOW DOES CANVAS PRINTING WORK?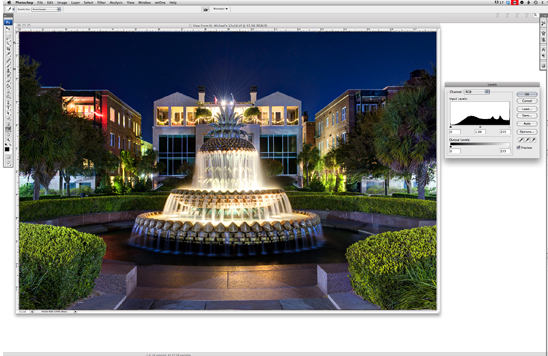 1. PHOTO OPTIMIZATION
We print a wide variety of photos for a wide variety of people. The thing that stays the same is the attention each photo gets. Every photo we print is individually viewed and adjusted to optimize it for printing. This way you can be sure that your photo has been given the attention it deserves and will look its best in print. We will not print your photo unless we are sure it will look good. You are always welcome to come by our shop and have a look at the image prior to printing.
2. PRINTING
Once your photo has been optimized for printing we print it on high quality, large format, archival printers. We use archival certified, OBA free canvas made in the USA. Our printers use 12 inks that will give you great colors and a smooth tonal range. The inks have been designed to outlast any of us when you care for your print as you would any work of art. The print is allowed to dry overnight so the inks are more stable before coating.
3. COATING AND STRETCHER BAR BUILDING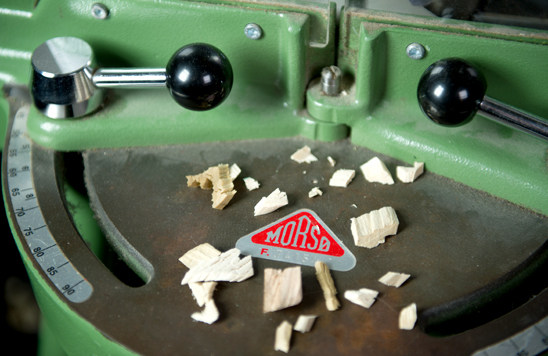 Once your photo has been printed it is then sprayed with a clear protective coating. This coating serves multiple purposes. First, it provides your canvas print with physical protection against scuffs and scrapes. Second, it contains UV inhibitors to extend the longevity of the print. Finally, it improves the look of the canvas print by making the blacks darker and the colors more saturated.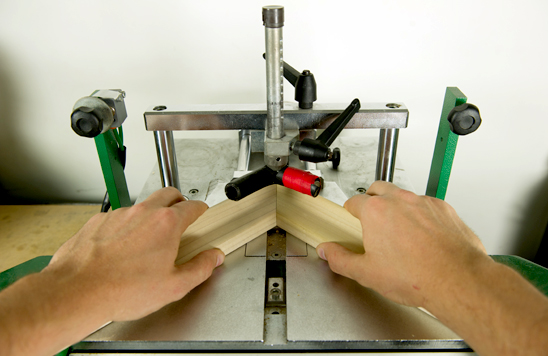 The coated print is allowed to dry overnight. Next, the stretcher bars your print will be stretched around are cut and joined by hand. We have our stretcher bars custom made to a specific profile designed by us that we think does the best job of supporting your print. Using this process we are able to make just about any custom size print you may need, one at a time.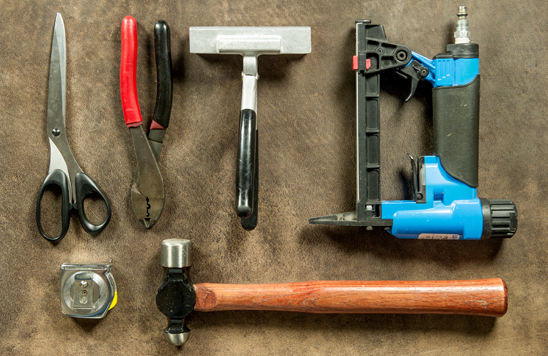 Once your print has been sprayed and allowed to dry it is time for stretching. This is the final step in preparing your canvas print where we stretch your print around a wooden frame making it ready to hang. All of our canvas stretching is done by hand, one at a time. This way we have control over the entire process and can ensure that an even, consistent stretching job is done.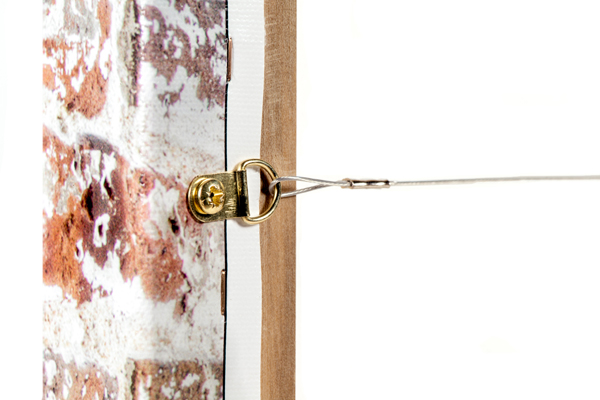 During the stretching process we put a wire on the back of all canvas prints. This means that once it leaves our shop your print is ready to hang on your wall. Canvas prints can be hung just as they are when you get them (this is the most popular way) or can also be framed with our custom, wooden canvas print frames.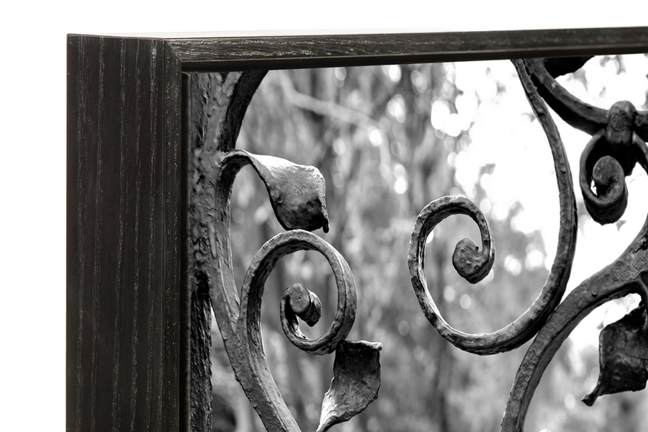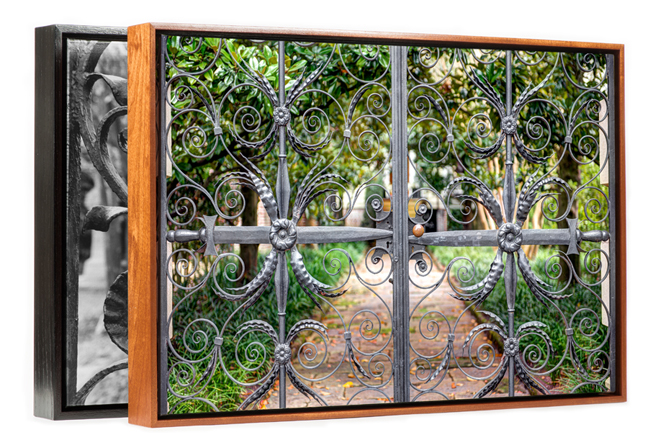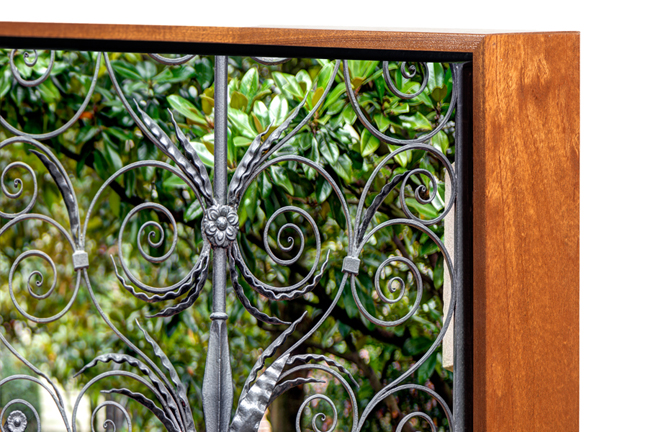 Our custom canvas frames are 100% handmade of wood in Charleston, SC. They are custom made to fit our stretcher bars, so your canvas prints float perfectly in the frame without sticking out. I have no hesitation in saying that you won't find better quality frames, especially not handmade frames, at this price. They come in four color options, black, a warmer brown (sapele), a cooler brown (walnut), and white. We can make nearly any size you need so let us know if you have a custom request. To learn more about custom canvas print framing click here.
CANVAS PRINTING PRICES
STRETCHED, READY TO HANG CANVAS PRINTS
ANY CUSTOM SIZE
We can print you just about any size that you like. Would you like to know a price for a custom size? Get in touch with us and we'll give you a price.
READY TO PLACE A PRINTING ORDER?